The SME sector has a lot of potential in terms of job creation but has always been constrained by the lack of credit. The traditional banks have continually underserved SMEs. SME lending always had a fairly smaller share in Indian banks' portfolios. Now, businesses are seeking a more dependable banking partner who can offer new financial management solutions, improved client experiences, and customized financial products.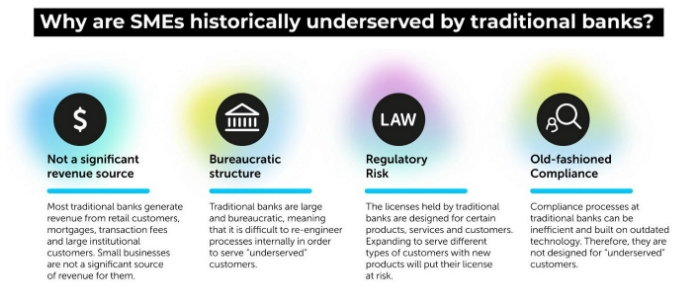 With its customer-centric digital products in Small-to-medium enterprise banking and other sectors, Neobanks are challenging the traditional banking sector today. They bring a design thinking approach to specific banking areas. Neobanks offer tailored products, services, and processes resulting in easier and more convenient banking for the users.

What is a NeoBank?
Neo banks are digital banks that are not present physically at a specific location. These are entirely online and do not have any branches. They rely on their bank partners to provide bank-licensed services.
Why are NeoBanks gaining popularity with SMEs?
Convenience: Being fully digital, these banks are efficient, adaptive, fast, and cost-effective. These banks have reduced the total turnaround time from days to minutes.
Neobank have revolutionized the way SMEs bank!
Money tracking: Since it's difficult for most of the SMEs to prove their financial solvency, they lose upon the loan opportunities offered under various initiatives. NeoBanking helps them solve this problem by making it easier for businesses to track their money in real-time. Neo banks can help SMEs by automating their accounting, cash flow management, and reconcile the payments, leading to financial discipline.
Low-cost banking: Since Neo Banks are digital banks without any physical branches, they save on physical resources and manual efforts, and can afford lower margins. They offer low-cost banking and benefit the customers.
Single payment gateway: While using traditional banks, SMEs and businesses need to use separate payment gateways. Neo Bank apps link several bank accounts into a single gateway, allowing business owners to examine (and understand in a better way) their spending reports by category and manage the accounts from their mobile devices.
Smart reporting: Neo bank gives you a quick overview of your spending and saving goals by providing the updated balance after every transaction. This allows small firms to have a clear financial picture and make informed decisions.
Neo Banks have attracted a lot of attention from millennials and the urban population due to their accessibility and great services. We at ZikZuk focus on solving the common challenges faced by SME founders in accessing affordable credit, and lack of visibility on firm's cash flows by creating an accessible and scalable financial ecosystem for SMEs. For more info visit : www.zikzuk.com